Increase Production through SRI (Systems of Rice Intensification)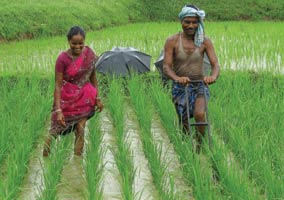 Sakti SIkha is in the process of implementing a project on the promotion of SRI methods of paddy cultivation. The objective is to increase the production of rice up to 30% more against the traditional method. The sub objectives is to promote the income of the poor ST/SC farmers.
The project to be funded by Government of India and will be implemented in 20 villages of Mayurbhanj district of Orissa and will cover 400 acres of rice cultivation land.
Animal Husbandry and Health Management Project
This project is to be implemented in Balasore and Mayurbhanj district of Orissa and will be supported by Government of India.
The project will provide livelihood support to poor women SHG member through animal husbandry with training on animal health management, market and credit linkage facilities. Total 300 beneficiaries will be covered under this project.